SHE'S REALLY NOT ONLY MERELY DEAD
SHE'S REALLY MOST SINCERELY UNDEAD
​
We used to dream that America was on a long, winding journey toward becoming a nation where compassion for other living beings, appreciation for our planet, and a desire to unlock our potential would be our guiding principles.
Now, Lady Liberty is dead and drained of color; her glowing red eyes and torch symbolize an undead nation we call the GHOST OF AMERICA.
There is no demonic enchantment or science-fiction virus powering the mobility of this undead nation. So what is that force? Fear? Laziness? Selfishness? A mutant strain of post-war capitalism gone rogue? A globalist conspiracy? A nationalist conspiracy? Can we look this monster in its eyes? Is this a redeemable monster? Or must we create something else to believe in?
As an art-project, GHOST OF AMERICA does not seek to provide neat answers to these questions. It merely suggests that, like Norman Bates from the movie Psycho, many citizens of the Ghost of America share their daily lives with the jealous corpse of their country, dressing up in its clothing, and filling their time with hobbies.
The work currently unfolds over three major components:
​
The original song "Ghost of America" which was composed on a broken, barely-usable guitar.

A music video for that song, where reanimated footage from classic films staggers around like a swing-dancing zombie.

A series of illustrations of 33+ famous Americans depicted as desaturated ghouls with glowing red eyes, released daily on the Instagram account @ghostofamerica.us with the hashtag #ghostofamerica
Sincere Gifts intends to stage this work in gallery settings, accompanied by a live performances.
To quote the Munchkins from the Wizard of Oz, this particular dream for our nation, once very beautiful and alive, is now not only merely dead, but really most Sincerely dead.
Morally, Ethically, Spiritually, Physically, Positively, Absolutely
Undeniably and Reliably Dead.
​
​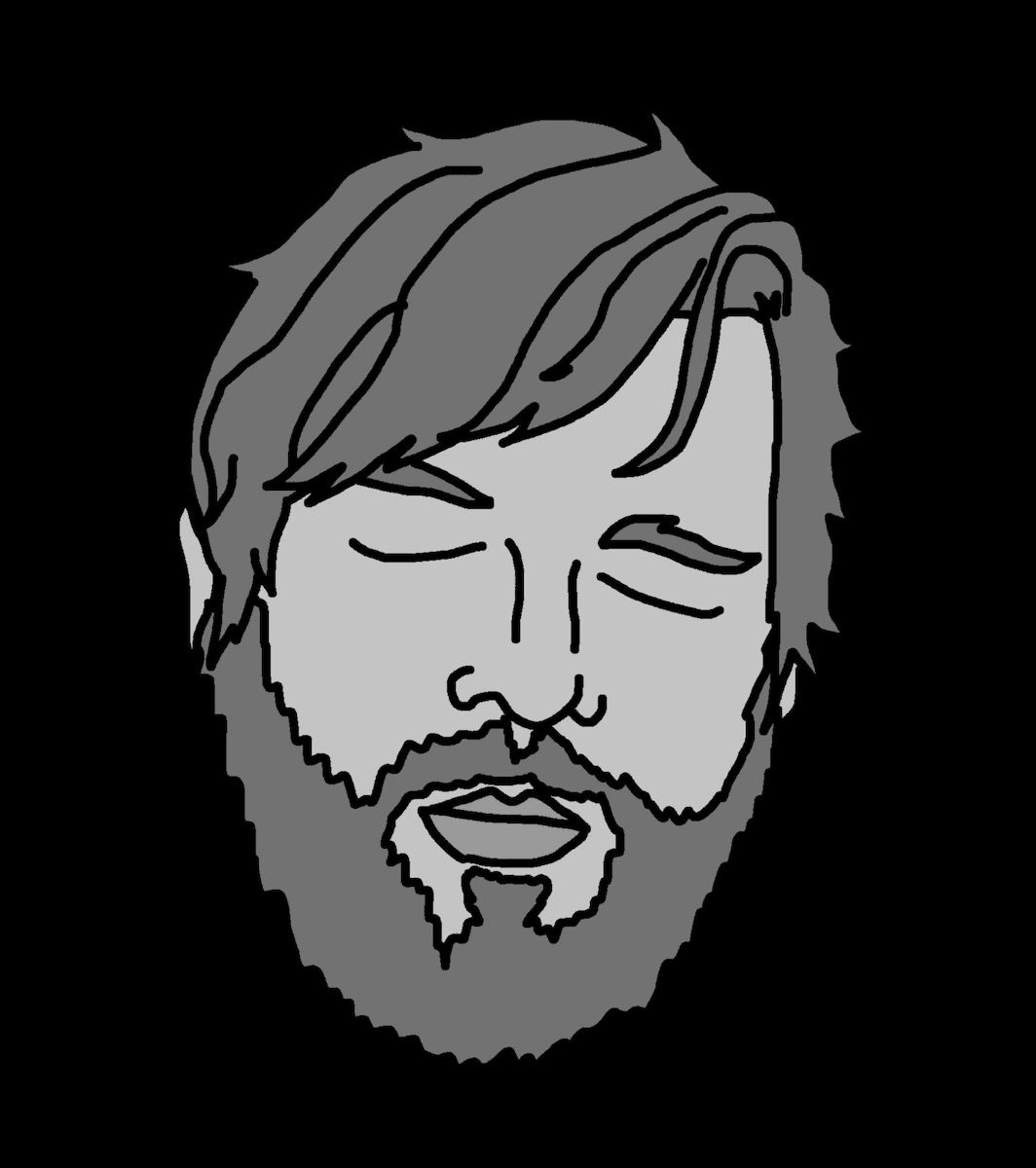 BEN WIGLER
Sincere Gifts Co-Founder
NICK BYRON CAMPBELL
Sincere Gifts Co-Founder
​
PROJECT CREDITS
GHOST OF AMERICA - SONG
Written by Ben Wigler
Arranged by Nick Byron Campbell
Produced by Nick Byron Campbell and Ben Wigler
​
Performed by SINCERE GIFTS
​
Lead Vocals, Acoustic Guitar, Guitar Solo - Ben Wigler
Vocals, Lead Electric and Acoustic Guitar, Bass Guitar - Nick Campbell
Drums, Percussion, Additional Engineering - Jonathan Smith
Harmony Vocals, Synth - Erica Marie Mancini
Additional Engineering - James Byron Schoen
Flute - Eve Harrison
​
GHOST OF AMERICA - VIDEO
Featuring Footage from
Rosemary's Baby (1968) - Dir. Roman Polansky
Ghandi (1982) - Dir. Richard Attenborough
Pulp Fiction (1994) - Dir. Quentin Tarantino
That Thing You Do (1996) - Dir. Tom Hanks
Kid Rock - American Bad Ass (2000)
​
Directed, Edited, and Animated by Ben Wigler
Software: Adobe Photoshop, Adobe Premiere, Affinity Photo
​
GHOST OF AMERICA - PORTRAITS
All portraits created by Ben Wigler
Software: Adobe Illustrator, Affinity Photo
​
MOST SINCERE THANKS
Bridget Foley, Elisa, Diego, Michael Cuesta, Zach Nader, Alan Gordon, Dimitris Athos, Camellia Hartman, Tim Kelly, Nick DiGregorio, Josh Wigler, Michael Falotico, Dima Drjuchin, Dmitry Kopytin, David Fine, Andrew Lund, Natalie Conn, Devin Lawrence

and Samantha Aldana
​
DON'T BE A GHOST
Send me an eMail at: